Miryam Johnson, a Detroit based Dancer, Choreographer, Instructor and Coordinator is a graduate of Eastern Michigan University, with degrees in Dance Performance/ Choreography and African American Studies. She grew up training with the University of Akron's Dance Institute and received multi genre dance instruction while attending performing arts middle and high schools. She also trained with Alvin Ailey's "The Ailey Extension" and Urban Bush Women "Summer Leadership Program. Since, she's performed with The Detroit Dance Collective, People Dancing, Kristi Faulkner Dance, and Anna Martine Whitehead.
Johnson's had the honor of learning from and performing works by Katherine King, Phil Simmons, Sherry Jerome Wilkinson, Barbara Selinger, Nancy Lushington, Sabatino Verlezza, Barbara Verlezza, John Griffin, as well as performed works by critically acclaimed Mae O'Donnell and Diane McIntyre.
She's a third year company member of Harge Dance Stories and was one of the featured dancers in John Sobczak's book "Portraits in Motion." Johnson curated and choreographed REBELLION, an evening length work that investigates the frustration, strength and resilience that has come with generations of continued rebellions in the Black Community. The work premiered at Charles H. Wright Museum of African American History in the Summer 2017, the 50th year anniversary of the 1967 Detroit Rebellion.
Johnson is a co-founder of Collective Sweat Detroit (CSD), a community led collective of dancers interested in advancing the rigor and relevance of dance in Detroit. Keep up with CSD/her upcoming classes and workshops, through our events calendar.
A committed educator and community member, Miryam believes in using her body and her art as protest.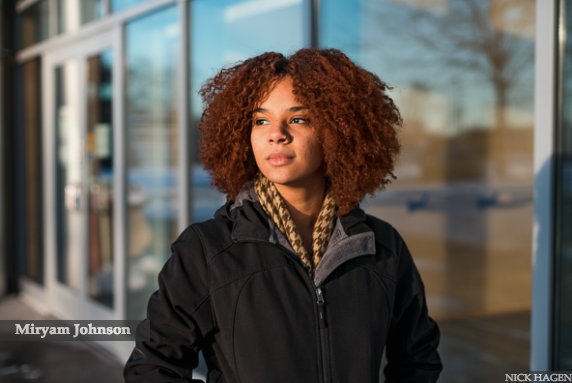 Johnson was featured in Model D's under-30 profile for her work with youth in Detroit. As a Teaching Artist through Living Arts and University Musical Society (UMS), Johnson is able to engage with children across southeast Michigan who have limited dance exposure. Through these classes Johnson invokes conversation with her students about their communities as well as their cultural and personal histories.
CLICK HERE to read the full article!